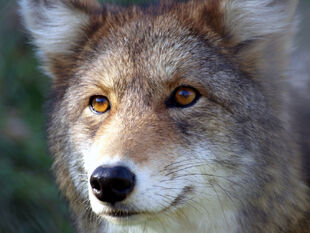 canyons and is an ally of Pego. He lives in the canyons Estrella and her herd were going through. He cleverly lit the canyon on fire,(With Pego's help) thinking he killed the horses. Sometime later he learned the horses survived and wanted to finish them. he needed help from pego so he promised pego an army of 600 horses. pego was also told he would be called a new name 'El Noble'. coyote helped the conquistador leader accept pego as his warhorse. the coyotr danced in the night, his plan soon to be completed. coyote's plan was to have Pego track down the other horses for the the conquistadors needed warhorses to conquer the land they were in. then Estrella and the rest would be captured and slaved once more. Unfortunately, the horses ran toward a raging river. coyote thought they would stop and be captured instead pf have a very likely chance of drowning. Astonishingly, the herd jumped over the river and made it, they than continued running. coyote, enraged, calmed himself saying he was the trickster and will not let the anger get the better of him and he will finish the herd. he disguised his scent and put it everywhere so the horses wouldn't track him. the horses found him in his burrow. coyote, enraged, leapt at an old horse, Hold On. The boy Tijo, tried to stab at the coyote. Then a shadow owl swooped coyote up and clawed at him before dropping him. coyote, dying, said his last word"tricked!" Then Tijo stabbed him. coyote died with a look of surprise.  Tijo said he could still feel the coyote's hate, despite he was dead. Tijo went to his village, with the coyote's pelt on him saying he wore the pelt of the trickster but he wasn't any trickster
Appearance
Edit
Coyote has a rusty and tawny colored pelt, like most coyotes. He also has glowing green and yellow eyes.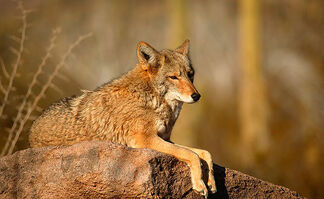 Personality
Edit
Coyote is exceptionally cunning, shrewd and sly. He's also extremely smart. He's very dark and very mysterious. On top of that, Coyote is evil and gruesome.  He tries to control his anger and uses others for his own schemes.  He desises Estrella and her herd and brags on how clever he is. Coyote also mentons how he loves his tail when he was wiping his footprints away in the snow so the horses couldn't track him. 
Coyote's son: Little Coyote, also known as 'Hope' in Wild Blood.
Hope's Mother: Died giving birth to Hope
Coyote is allied with Pego, a skilled, smart, fearless, cunning, vain, and prideful dark colored horse who is also handsome and strong.
The boy Tijo, tried to stab at the coyote. Then a shadow owl swooped coyote up and clawed at him before dropping him. coyote, dying, said his last word"tricked!" Then Tijo stabbed him. coyote died with a look of surprise.  Tijo said he could still feel the coyote's hate, despite he was dead. Tijo went to his village, with the coyote's pelt on him saying he wore the pelt of the trickster but he wasn't any trickster
Ad blocker interference detected!
Wikia is a free-to-use site that makes money from advertising. We have a modified experience for viewers using ad blockers

Wikia is not accessible if you've made further modifications. Remove the custom ad blocker rule(s) and the page will load as expected.